We are part of the earth and it is part of us. The perfumed flowers are our sisters; the deer, the horse, the great eagle, these are our brothers. The rocky crests, the juices of the meadows, the body heat of the pony, and man - all belong to the same family.
--Chief Seattle
FocusBloom is a privately owned small business dedicated to creating beautiful products that are high on meaningful content, with detailed artwork, enriching concepts, and affordable pricing. For us cherishing our Planet Earth also means to manufacture locally, in the USA, using recycled materials, vegetable inks and minimal packaging.

We see a lot of beauty and meaning in life ¡ª we love nature and children. We believe teaching children through play is fun and effective. We know from our own experiences that when you put your focus on something, it is going to bloom ¨C to grow ¨C to develop into meaningful understanding and adventures.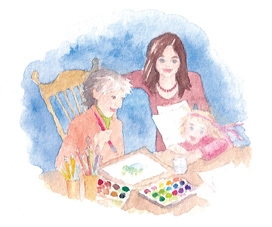 I Cherish Planet Earth was created and written by Margot Losa and Emily Kea. Illustrations by Emily Kea.